MULTI-PLATFORM ADVERTISING CAMPAIGN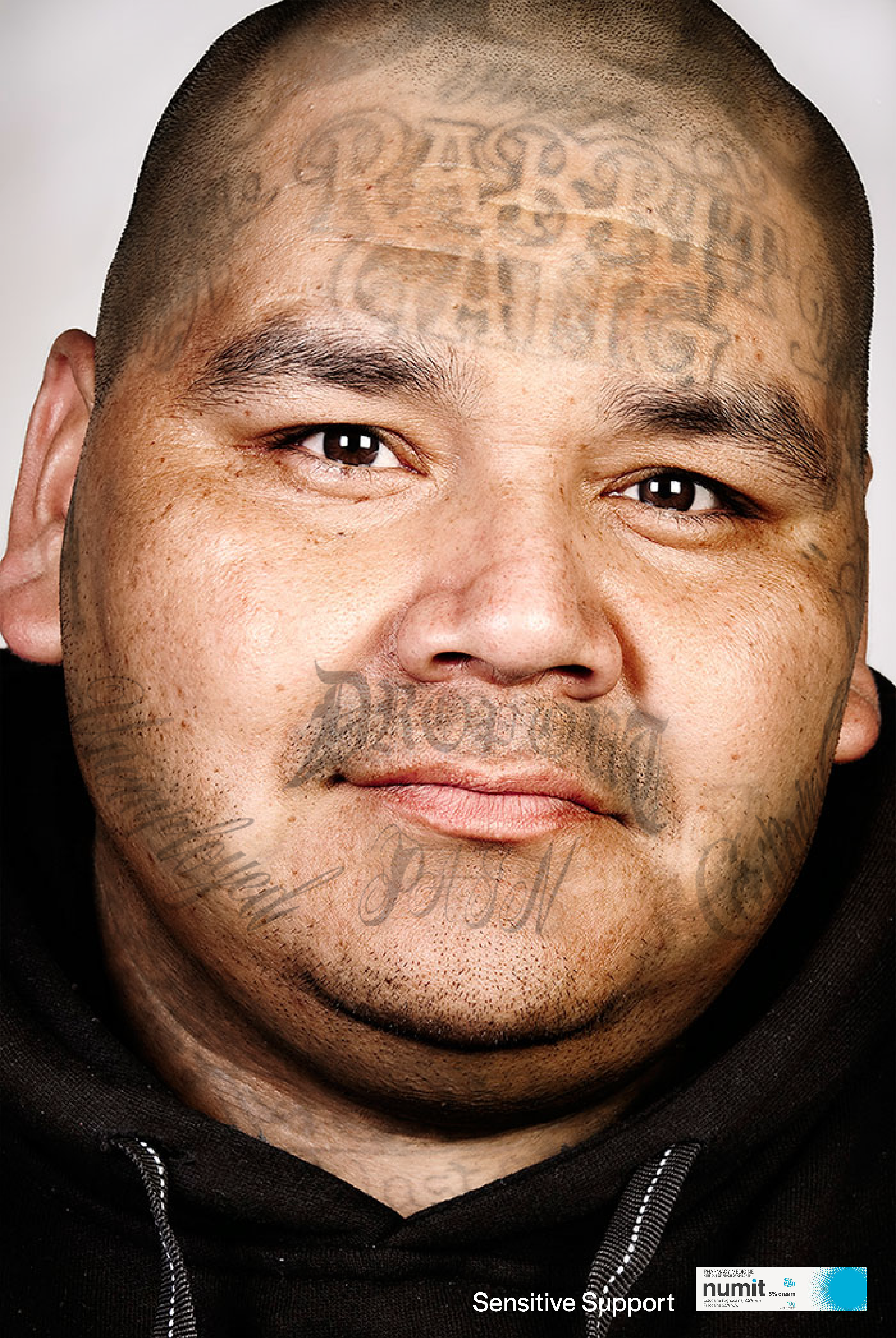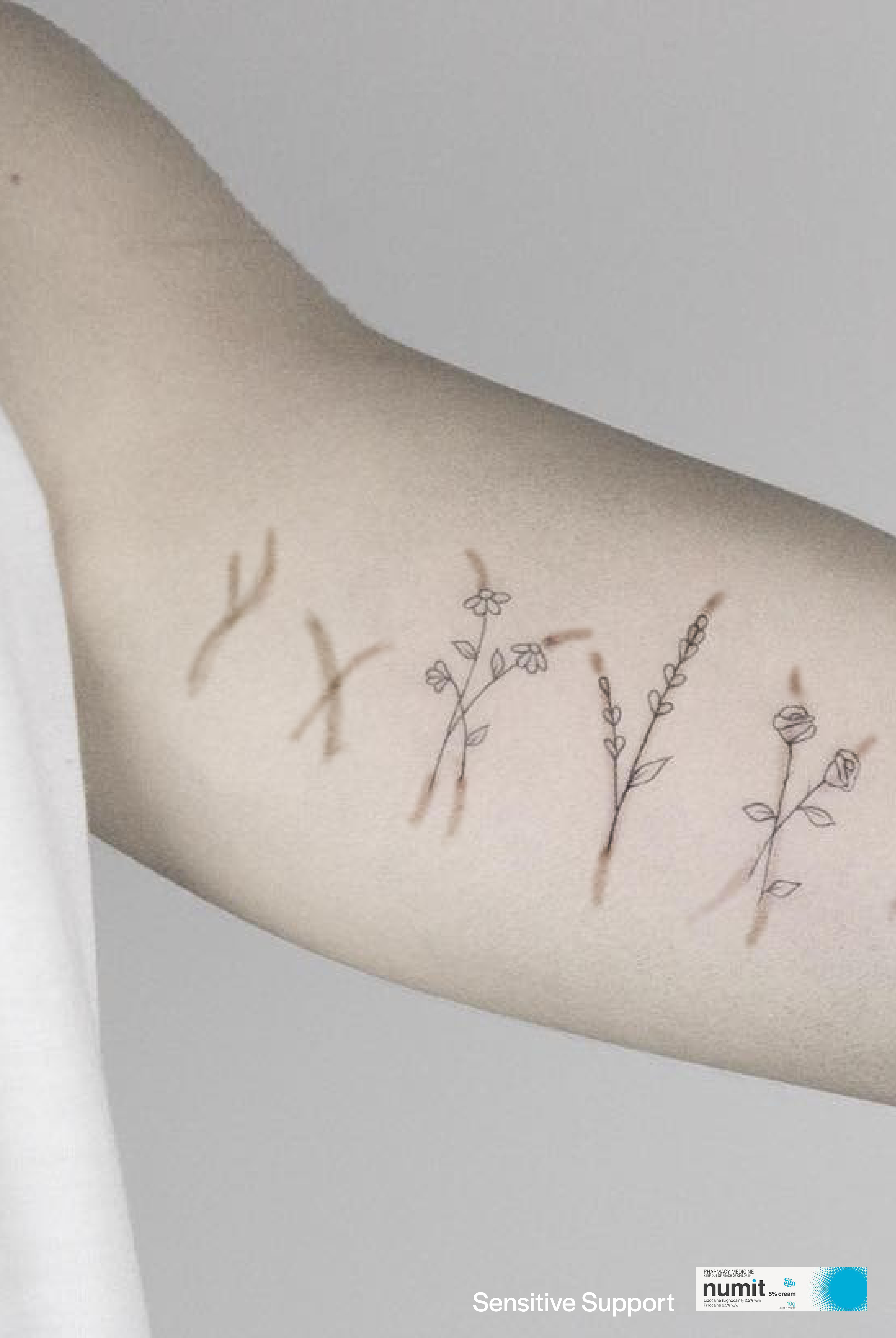 P

rint Ads (left to right)
Birth:

Stereotypes have been moulded into the tattoos that are now faded. The words are dropout, criminal, unemployed & pain.  
Rising:

Scars have been tattooed over and turned into flowers.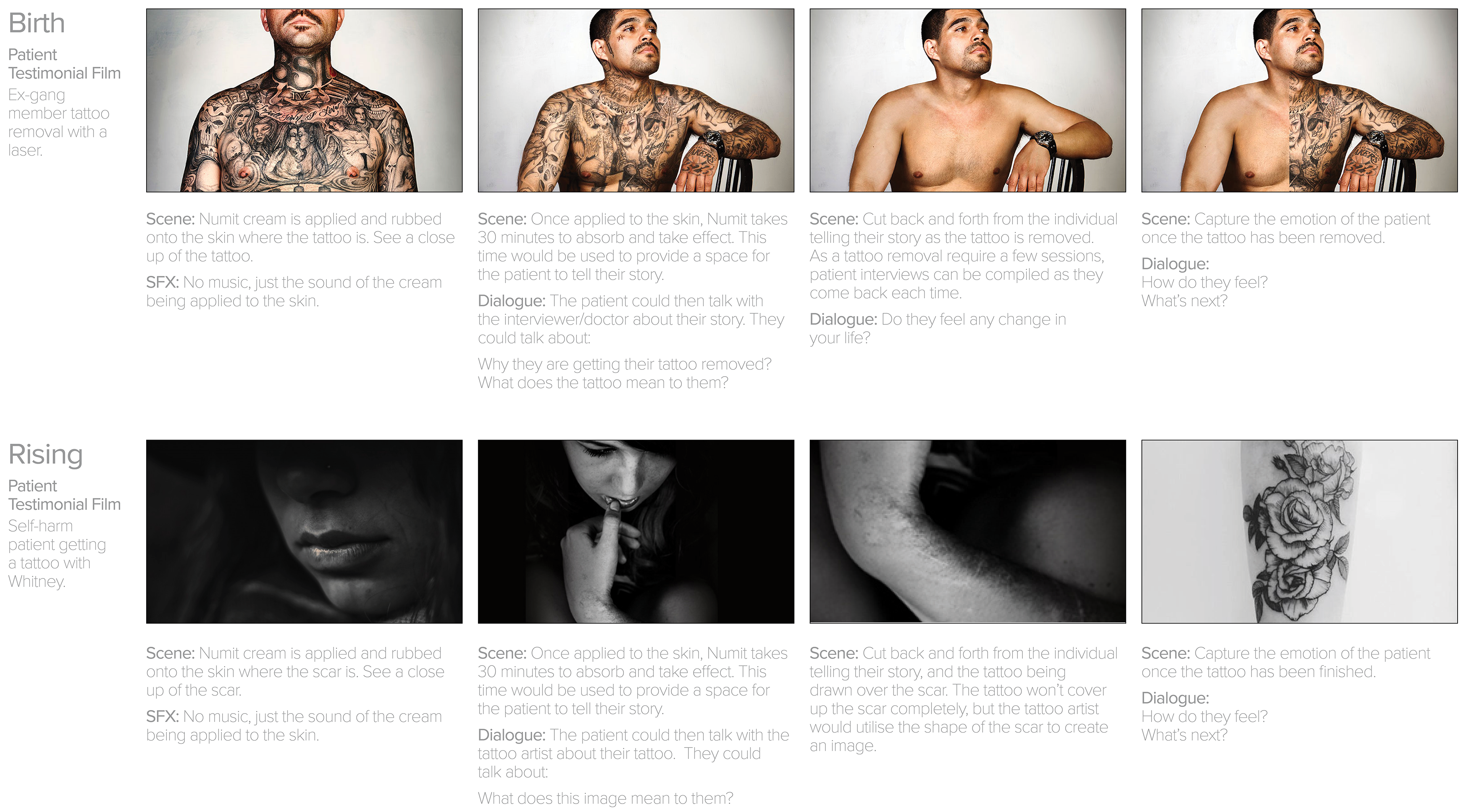 In 2016, I read an article produced by Triple J Hack about a tattoo Artist, Whitney Develle. She was providing a free service to tattoo over self-harm scars and to help those who were plagued by prejudice. The article stuck with me, as Whitney's service spoke to the scars we wear as a reminder of our heavy burdens. 
Inspired, I explored the concept of creating a campaign that helps take away the pain with the help of Numit. 
Later that week, a friend who works in the Australian Healthcare System recounted a story that stuck with him. He had been assisting an individual who had been physically assaulted on public transport by a rival gang who recognised the victim by his tattoos. The victim had explained that he moved from America to escape a life of crime, death and gang wars, only to find that he couldn't because of his tattoos. 
After hearing this story, I revisited my initial idea and took a new approach: It wasn't necessarily about forgetting the pain of the past, but rather easing the pain for the future. 
With the help of Numit, we could bridge a gap and give new life to a misunderstood segment of society. By:
  •  Removing ex-gang member's tattoos to help them get a job, or
      assimilate back into society. 
  •  Transforming scars that may be self-inflicted, by an accident, or at birth, 
      into sentimental tattoos. 
The brand could be positioned as aiding patient's mental and physical state, exploring the gap between how others perceive us and how we perceive ourselves. The ultimate sign of understanding: Sensitive Support with Numit.
References:


 1.  Kaitlyn Sawrey, Apr 2016. A new start: tattooing over self-harm scars. Viewed 5th June 2018. <http://www.abc.net.au/triplej/programs/hack/the-scars-project-whitney-develle/7304854>
 2.  Daniel Ross, Aug 2014. Getting gang tattoos removed in East Los Angeles. Viewed 5th June 2018. <https://www.vice.com/sv/article/mv5pn3/homeboy-industries-tattoo-removal>
Product:

Numit – Topical anaesthetic
Context:


In 2017, Ego launched a topical anaesthetic called Numit. Numit is a cream, which is a mixture of two local anaesthetics. These are combined with a special agent, which allows the product to pass through the skin. Once through the skin, the numbing effect they produce allows minor surgical procedures to be performed with a complete or significant reduction in pain.
It has a broad range of uses, including vaccinations, blood sampling. superficial surgical, minor superficial cosmetic procedures such as laser treatment, tattoo application, and removal.
Deliverables:


Explore creative territories for messaging and visual creative.
Target Market:


Consumers: laser hair removal, botox injections, and tattoos.
Key Insights & Message:


Since there is a lack of differentiation with the product, success will come from effective positioning and tactics. 
  •  24% of the Australian population has tattoos, growing rapidly over the last
      5 years.
  •  Numbs pain through two active ingredients.
  •  Suitable for all topical (on-skin) pain numbing.
  •  Made by the Australian skin experts.
Prop:


Numit: Does exactly what it says.